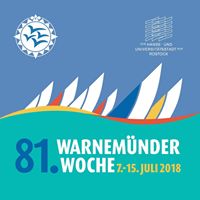 Europa Cup Germany
Sat 7th July 2018 - Tue 10th July 2018
Germany, Rostock-Warnemünde / Baltic Sea
Regatta Informations
This regatta will be organized by the Warnemünder Segel Club.
Sailors wishing to enter must first complete an application form.
Entry Fee
80.00€ (EUR)
Late Entry Fee
100.00€ (EUR)
Entry Closing Date
Sun 24th of June
Entry Address
Payments shall be made to the following bank account Bank: OstseeSparkasse Rostock IBAN: DE26 1305 0000 0201 0890 33 BIC: NOLADE21ROS Please enter class, nation code, sail number and family name to the transaction record.
Race office opening
Fri 6th of July , 12:00
Race office closing
Tue 10th of July , 0:00
First Race
Sat 7th of July , 12:00
Last Race
Tue 10th of July , 14:00
N° of Races
8
Social events

Further giveaways are planned, depending on sponsorships.

Insurance Requirements

Each participating boat shall be insured with valid third-party liability insurance with a minimum cover of €1,500,000 (1.5 million Euros) per event or equivalent there of in any other currency.
Club Details
Warnemünder Segel Club, Am Bahnhof 3, 18119 Warnemünder Germany

Email: r.bergel@warnemuender-woche.com
Tel: +49 177 3523 912
About Rostock-Warnemünde / Baltic Sea, Germany
New harbour Mittelmole after total reconstruction with berthing facilities for ilca fleets on the platform with 2 launching area within the protected harbour area at al wind directions.
Average Wind & Weather Conditions:
Mainly westerly wind directions
Average wind speed 9kn
Water temperature 17°C
3.5 m average wave height maximum
Local Tourist Information
https://www.warnemuender-woche.com/ and Rostock Tourismus-Zentrale
E-Mail: info@warnemuender-woche.com
Phone: +49 (0) 381 / 52340
Accommodation
Camper ground next to the venue on Mittelmole, WiRo Tel (Hotel) next to the venue
Prizing camper and caravans: https://www.warnemuender-woche.com/camping-zelten/