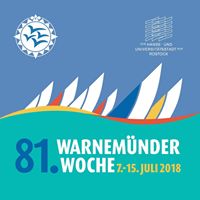 Europa Cup Germany
Sat 7th July 2018 - Tue 10th July 2018
Germany, Rostock-Warnemünde
Regatta Informations
This regatta will be organized by the Warnemünder Segel Club.
Sailors wishing to enter must first complete an application form.
Club Details
Warnemünder Segel Club, Am Bahnhof 3a, 18119 Rostock Germany

Email: info@warnemuender-woche.com
Tel: +49 38152 340
About Rostock-Warnemünde, Germany
All venue facilties, camping, boat park and launching area on the Mittelmole Warnemuende within a distance of 100m.
Attention: The harbour, launching area, platforms in the harbour, water supplies etc. are totally reconstructed and ready to
operate until Warnemuender Woche 2021. In 2021 Warnemuende offers one of the modern harbour and infrasturctuce at the
Baltic Sea.
Average Wind & Weather Conditions:
Mainly westerly wind directions
Average wind speed 9kn
Water temperature 17°C
3.5 m average wave height maximum
Sea spa village at the Baltic Sea
6670 citizens
Many gastronomic and cultural offerings and facilities in foot walk distance
Excellent traffic links:
Rail station next to the Hohe Düne ferry
Ferry services into Scandinavia and Baltic states
Airport Rostock Laage and Hamburg Fuhlsbüttel Airport
Direct link to motorways into all directions
Sheltered launching ramp at the Mittelmole
Full trolley service and exclusive launching -off-times
Berth area for more than 350 dinghies direct to the launching ramp
Sail maker and equipment store on the venue
Camping and caravan facilities on the venue
Event center and host club ground on the venue
The old village Warnemünde next to the vernue
Local Tourist Information
Tourismuszentrale Rostock & Warnemünde; Am Strom 59; 18119 Warnemünde
Phone: +49 (0) 381 / 5 48 00 10
Fax: +49 (0) 381 / 5 48 00 30
E-Mail: touristinfo@rostock.de
Internet: www.warnemuende.de
Accommodation
Camper and caravan area close nearby boat park and launching area within 100m on Mittelmole on the venue.
Hotels and accommodation is available through the tourism office.